May Photo Special — Sweethearts in Spring!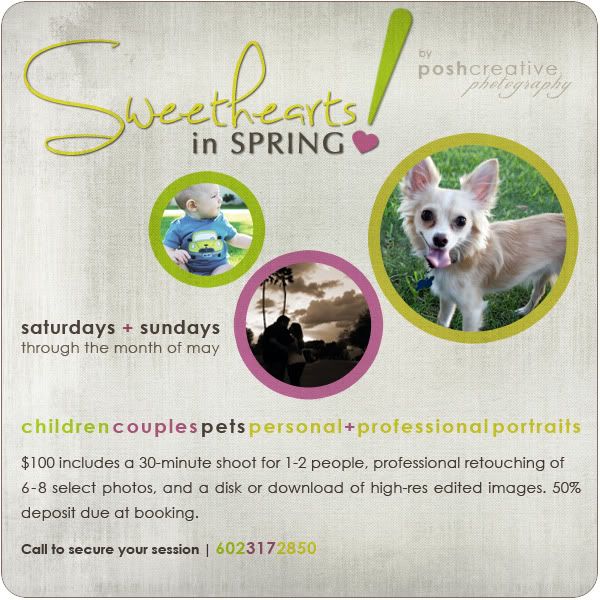 Sweethearts in Spring!
A Photography Special by Posh Creative


saturdays + sundays through the month of may



children . couples . pets . personal or professional portraits



We're nearing the end of my favorite season and my neighborhood in North Central Phoenix is abloom! From the well-manicured grassy common areas and mature-treed landscaping to the desert planted alleyways to the grungy fences of neighboring horse properties…there are all sorts of unique backdrops to play with. Let's play!

Early mornings are still the most comfortable time to be outdoors and the lighting is superb between
6-8am and 5-7pm. Get some shots of the kiddos at the private community playground or nuzzle with your honey in a floral draped cubby for two. Need a professional headshot? The incentives don't get any sweeter than this!

$100 includes a 30-minute shoot for 1-2 people, professional editing of 6-8 select photos, and a disk or download of hi-res images. 50% deposit due at booking.

Call, email or Facebook message me to secure your session | 6023172850



Oh, and be sure to pass this offer along to your friends, family, students, and colleagues!